Effect-oriented promotion
Proactively show in which thematic areas you are funding – and where you are not accepting applications. Participate in networks, discuss with other funding organizations and experts, and detect funding gaps.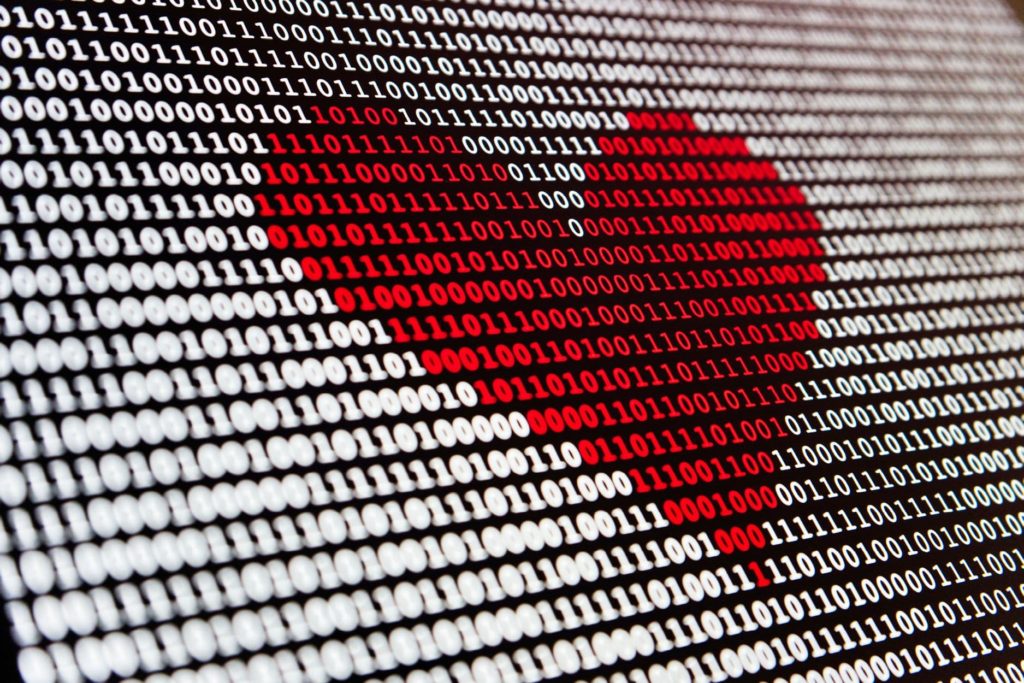 Welcome SwissFoundations!
MAKING IT EASIER WITH STIFTUNGSCHWEIZ
One Solution for Everything
StiftungSchweiz offers you everything you need for a efficient and modern philanthropy. With your login to StiftungSchweiz, you have access to all your practical work aids in one place. You can quite easily: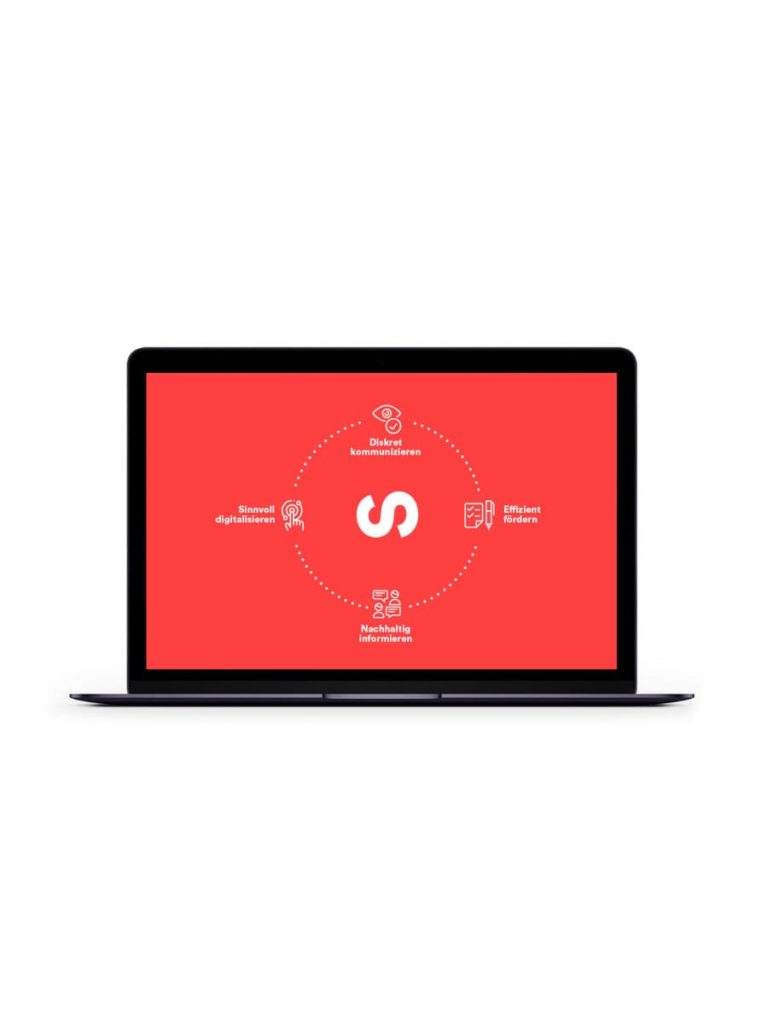 Communicate clearly
What do you promote and what don't you promote? Create transparency about your funding prioritieste. This allows projects to assess in advance whether or not their requests are a good fit – before they submit an application.
Digitize sensibly
Digitize your work where it makes sense, simplify your workflows and save valuable resources. Take advantage of our comprehensive digital toolbox.

Promote efficiently
Make your funding processes lean. Use our digital solutions to receive high quality and suitable searches. With our efficient application management (from winter 2023), you simplify your daily work and increase the effectiveness of your funding.
Exchange and network
The network offering facilitates collaboration in virtual space. Open new thematic networks, discuss and debate with other interested parties. Form alliances and find funding gaps. Keep your finger on the pulse with our blog and newsletters.

Search and Find
A clearly structured directory combined with an intelligent matching system: Find matching funding organizations, non-profit organizations and projects with ease.
Get started for free: Even on the Free level you manage your organization
All functions for funders at a glance
You have The Choice: With our free introductory offer for funding organizations, you proactively show in which thematic areas you fund – and where you do not accept applications. With the "Free" access, you unleash the full digital potential for your funding organization and use a comprehensive digital toolbox. You find suitable project or funding partners and are supported in relevant issues of philanthropy.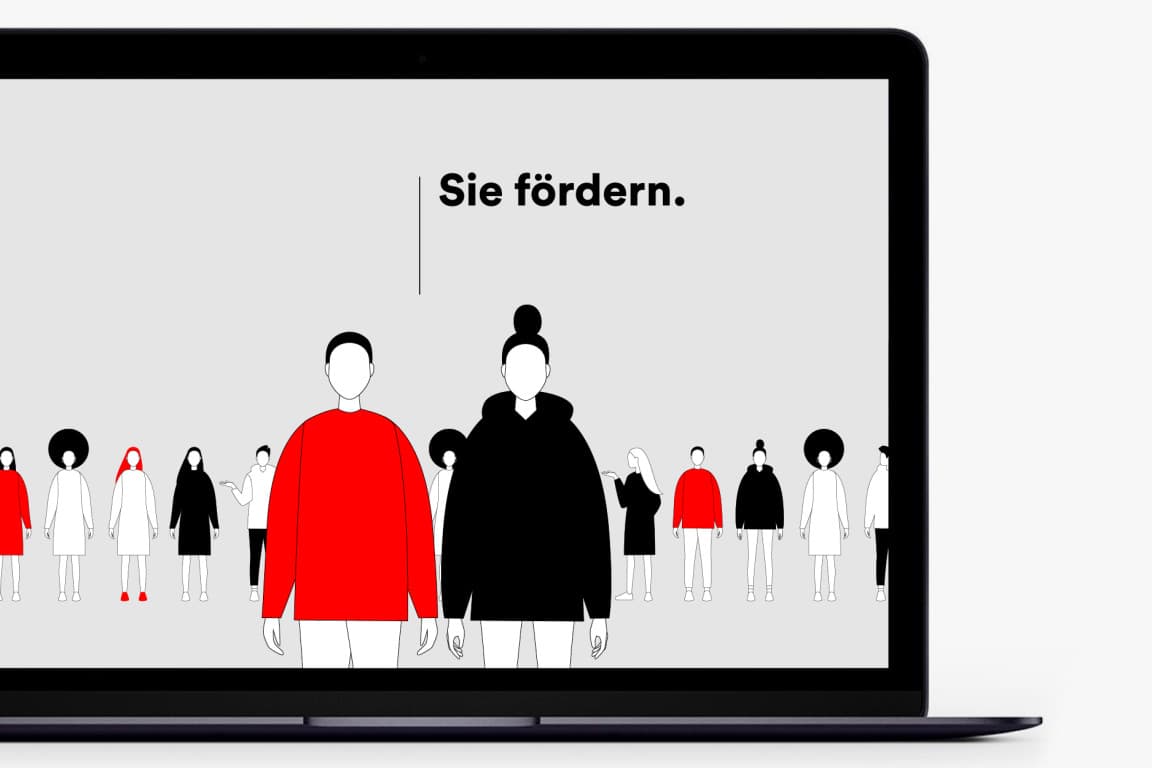 Present a complete foundation portrait in multimedia form on a dedicated microsite. Describe, for example, the focus of the foundation's grantmaking activities, projects funded to date, and, if desired, the foundation's annual distribution. Also state whether or not you are accepting grant requests and provide current contact information. This gives the grant giving foundation a persuasive online presence. The official data from the commercial register is already entered and updated automatically.
No own website required
Presentation in the largest directory
Entries changeable at any time
Free choice of communication channels
Basic profile in the networks
Basis for the use of the (optional) online application system (available winter 2023)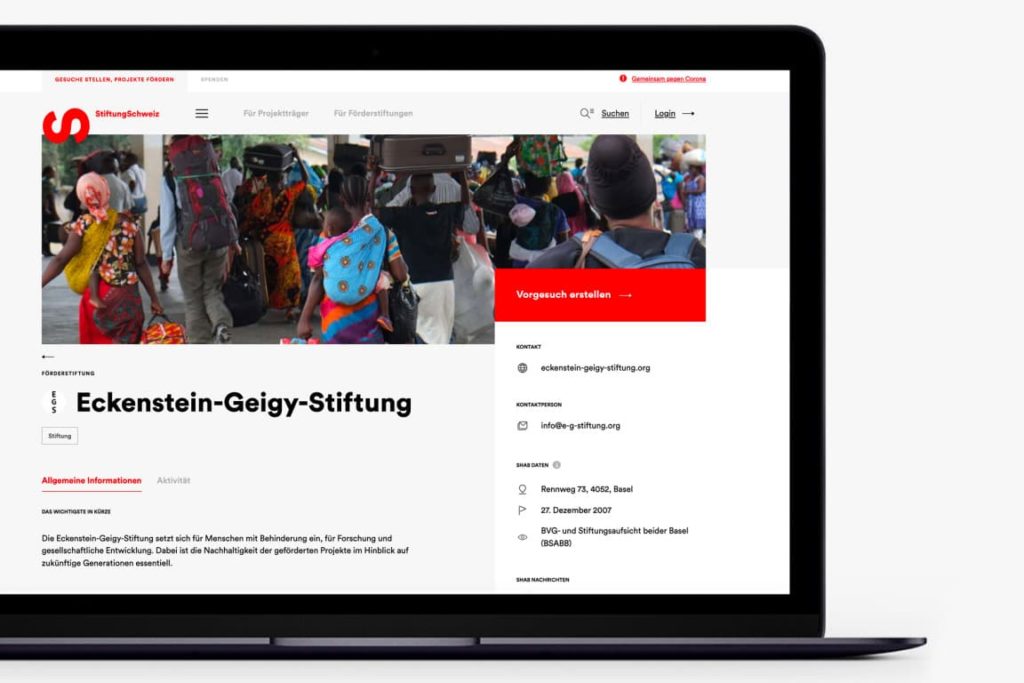 Everything going on in the foundation and nonprofit world can be found here. Almost, anyway. In addition, there are various opportunities to learn new things and get practical help. Don't miss it!
Discuss in the networks and help shape philanthropy
Search for foundation board members
Useful books and publications
Industry statistics with facts and figures on philanthropy
Knowledge-Hub with lots of info, e.g. on impact monitoring and legal issues
Newsletter for timely updates
Blog, newsletter, the magazin THE PHILANTHROPIST (online and in print)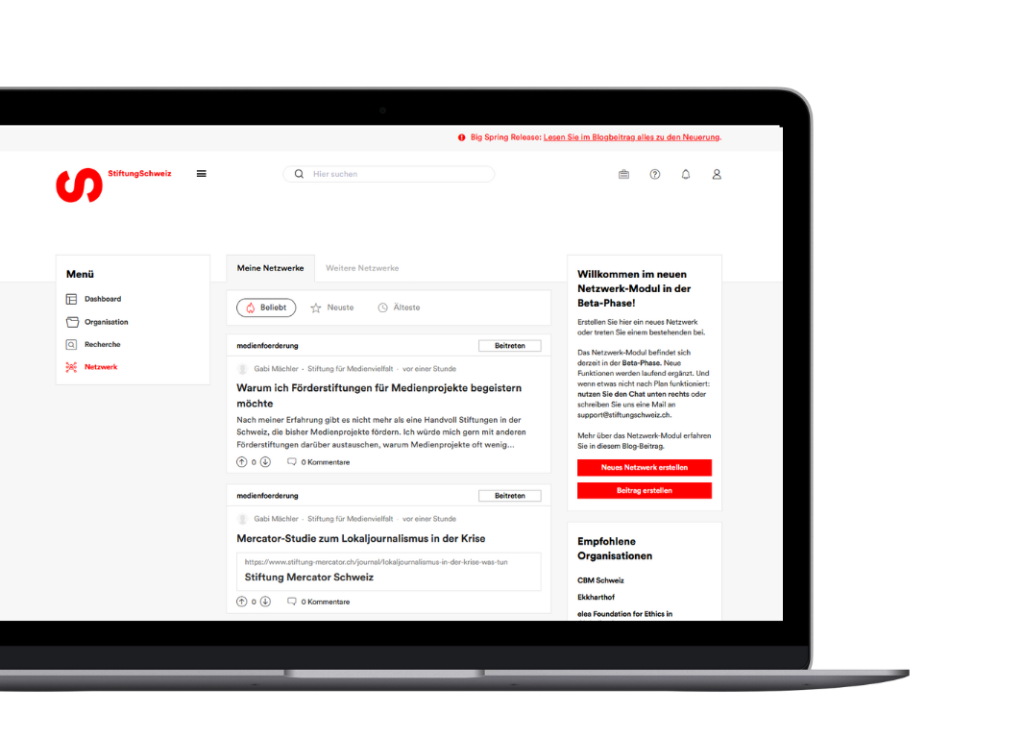 Info: Function is under development and available in winter 2023.
Nonprofits submit a standardized online application form to you. Receive notification via the application management system and easily make an initial pre-selection via the platform. Take notes and have the Board of Trustees evaluate the applications.
Online tools for managing and evaluating applications
Rating system with different rights
Automatic messages to applicants
Great reduction of the workload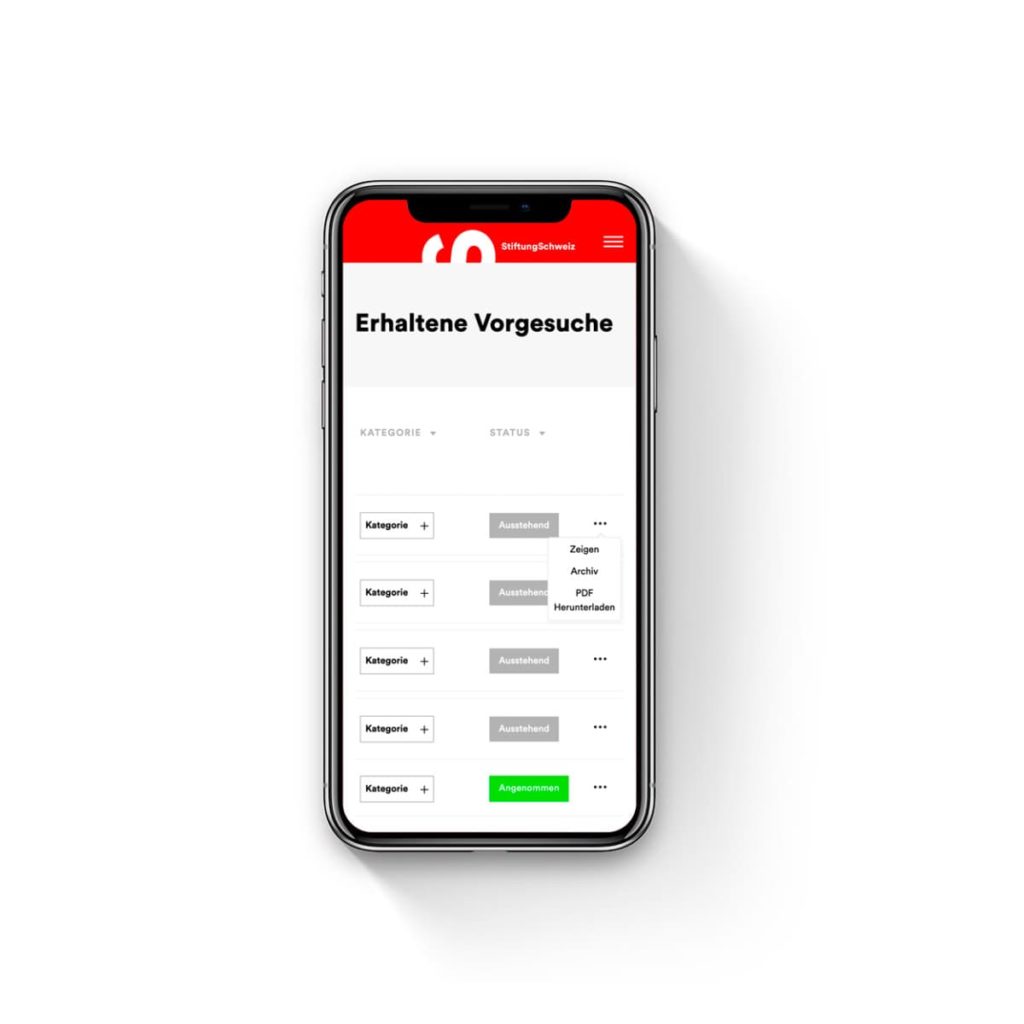 You can manage all of your activities on stiftungschweiz.ch via a practical dashboard. This is where all the information that is relevant to you is gathered.
Clear display of all activities
Multi-user capability
Customizable information
Manage your organizations with a few clicks
up to 5 users (e.g. Pro-access)
Multilingual use of the platform possible (German, English and French)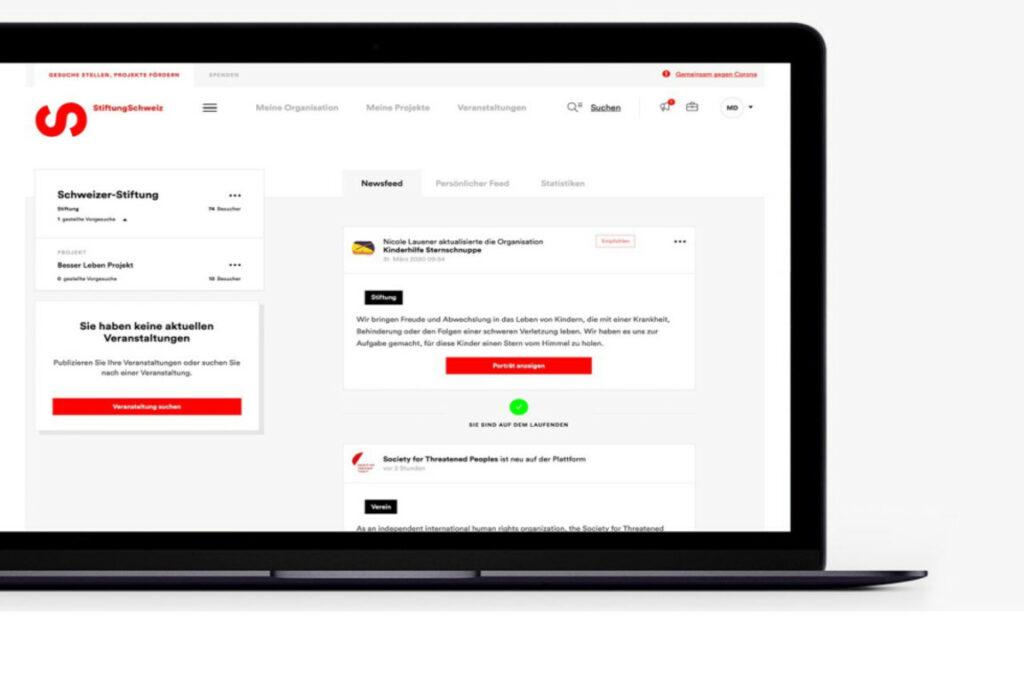 Help shape philanthropy: Starting at Pro, you will moderate your own networks and set accents in the sector.
HOW TO SIMPLIFY YOUR WORK IN CONCRETE TERMS
Spotlight: The networks of philanthropy
The network offering facilitates collaboration in virtual space. Open new thematic networks and discuss and debate with other interested parties. Keep your finger on the pulse with our blog and newsletters.
Find funding partners
The network offers orientation as to who is active in which subject areas and with which focus. Join the networks that match your focus and point out where you would like to contribute. Discuss exciting initiatives with colleagues from other funding agencies. Get in direct contact with potential funding partners to make a bigger impact together.
Staying informed Immerse yourself in the world of philanthropy: learn about issue areas and approaches being taken by other grantmaking organizations. Identify promising new trends and themes on the horizon. Enter into a dialogue with your colleagues to discuss acute needs and potentials.
Evolve funding approach Exchangeideas with other funding agencies on new methodological approaches to funding. Learn and benefit from the experiences and insights of your colleagues and integrate proven ones into your own promotion environment.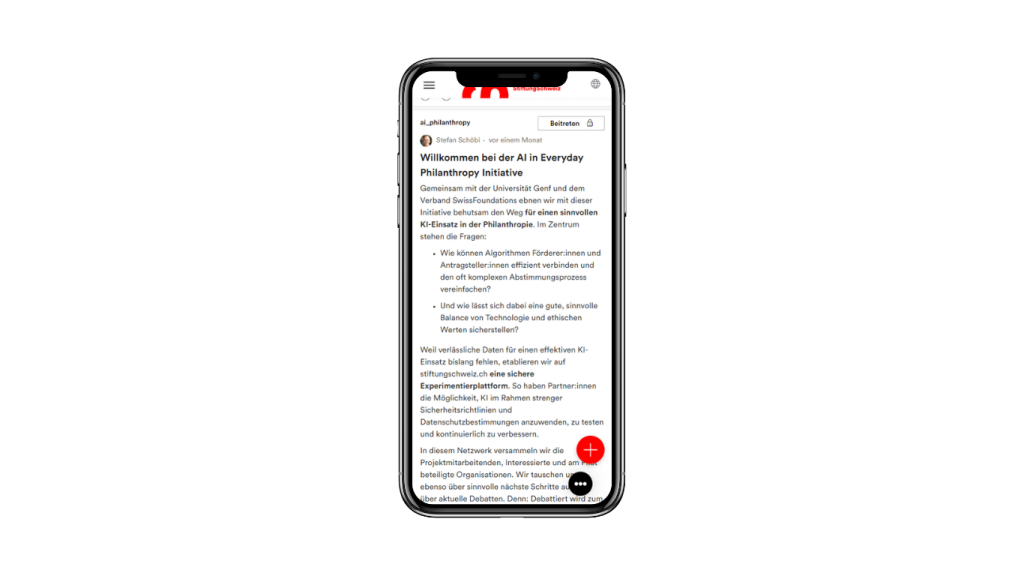 A good network for more impact – more success in philanthropy
The most important thing for funders, non-profit organizations, as well as private individuals is to find the right partner without detours. The best way to get there is through efficient search and good networking. StiftungSchweiz does justice to this. With a model tailored to the needs of philanthropy.
Frequently asked questions
Alreaady at the Free level, you get unlimited access to the search function, can manage your organizational portrait, and can join networks.
Starting from the "Starter" level, you can create unlimited lists and store your organizations in them. The lists can also be downloaded quite easily.
With "Pro" you will additionally receive suggestions for suitable organizations and will be notified about changes.
Yes. From level "Pro" you can open and moderate your own networks. Learn more about the networks here.
From the "Partner" level on, you can make full use of the application management system and involve team members in it. The system is still under development and will be available this winter 2023.
Use the canton filter and the legal form "foundation". In order to collect all results in a clear list, you either need a starter access or you place a non-binding search request with us. Contact us: support@stiftungschweiz.ch