StiftungSchweiz Search
Simple and comprehensive research
The StiftungSchweiz search makes it possible: Whether you are looking for a foundation, researching tax-exempt associations or simply browsing through the largest directory of foundations in Swiss organizations. Thanks to helpful filters, a clever algorithm and intuitive operation, you will quickly reach your research goal.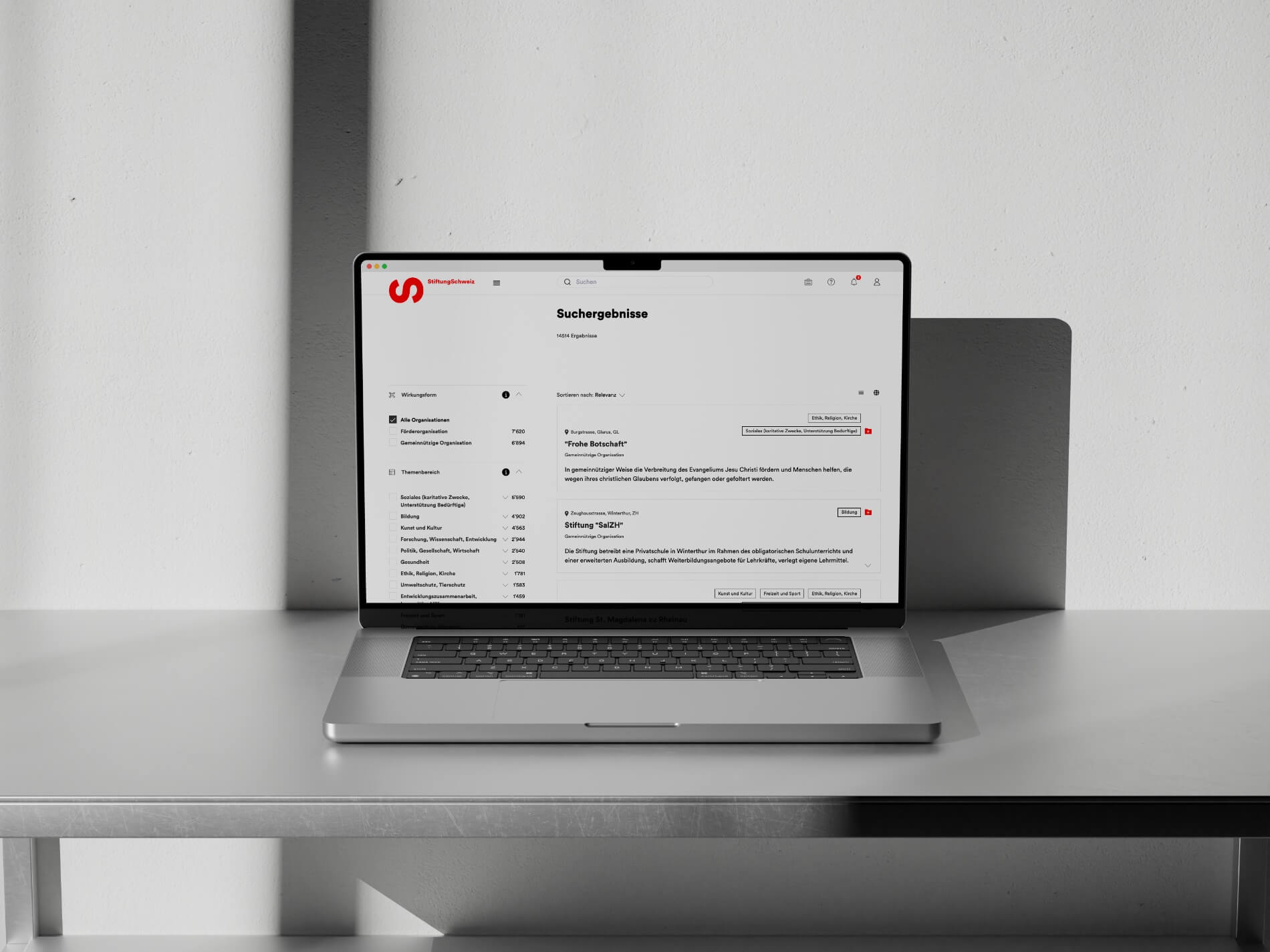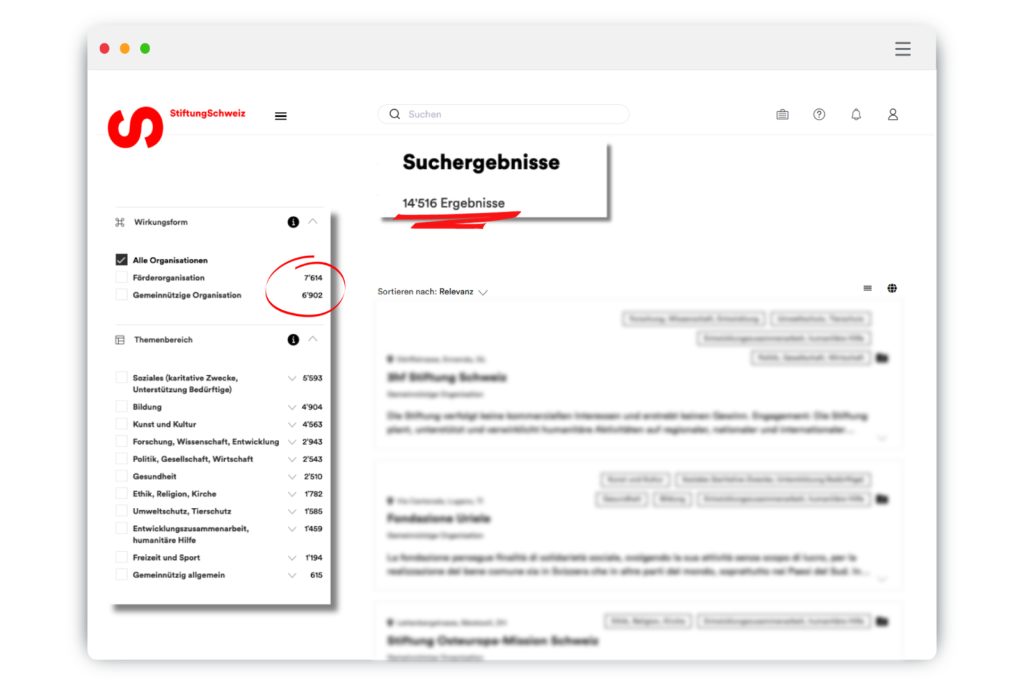 Search incomprehensive foundation directory
Search within around 15,000 recorded Swiss organizations.
A constantly updated foundation index ensures representative search results.
The well thought-out categorization system guarantees overview and structure.
You can rely on our data quality. All organizations are manually coded and the information verified.
Get started for free: Even in the Free level, you can use the search without restrictions.
Get accurate results with helpful filters
The filters are perfectly adapted to the needs of organizational research.
More than 10 filters are available: Filter by impact type, topic area, target group, legal form, address, founding date, impact area, certification, membership and SDGs.
Use one or combine multiple filters to narrow your search results.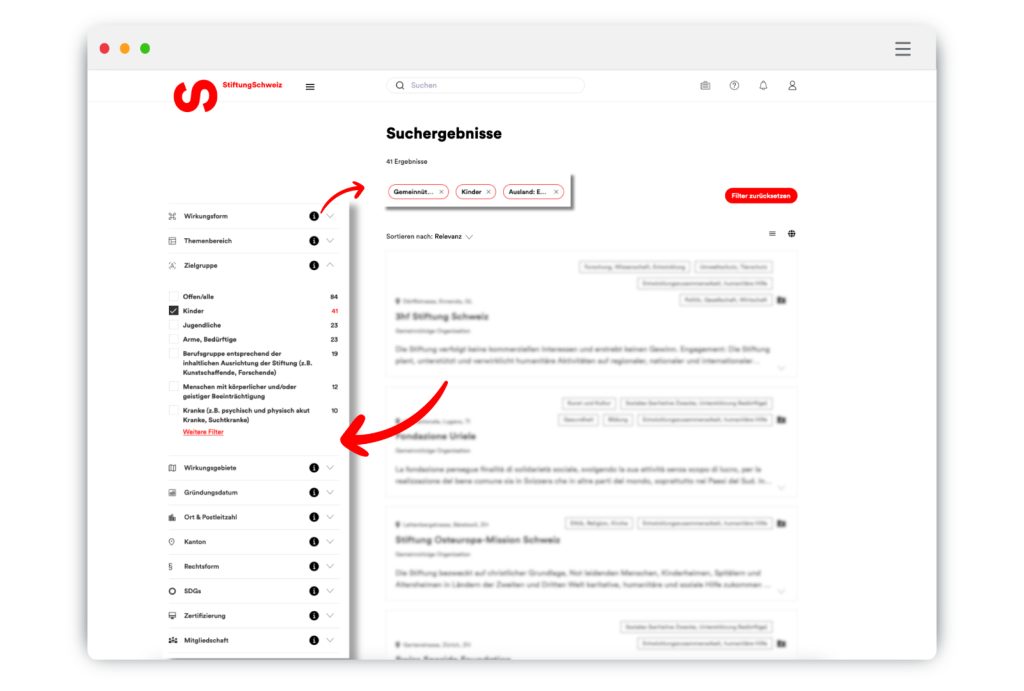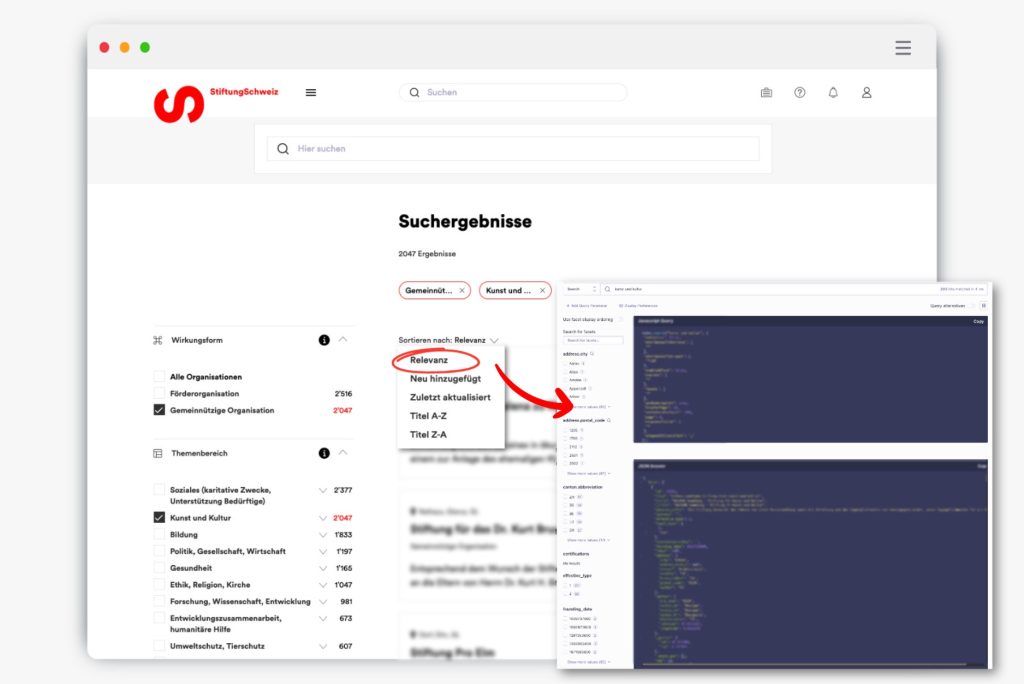 A smart algorithm supports you
Our system works with an artificial intelligence that is constantly learning and improving.
Intelligent relevance sorting ensures that you always see the results that are most relevant to you first.
Experience a personalized search experience with precise search suggestions and an automatic correction function.
Search intuitively and flexibly
No matter whether you are a technology professional or a beginner: Thanks to our intuitive operation, you will always achieve the desired results quickly and easily.
Maximum flexibility: Simply enter a search term using the text search, use our filter options, or combine both search methods for optimal results.
You have different view modes to choose from: Besides the list view for optimal data overview, we offer the map view for geographical assessment of the search results.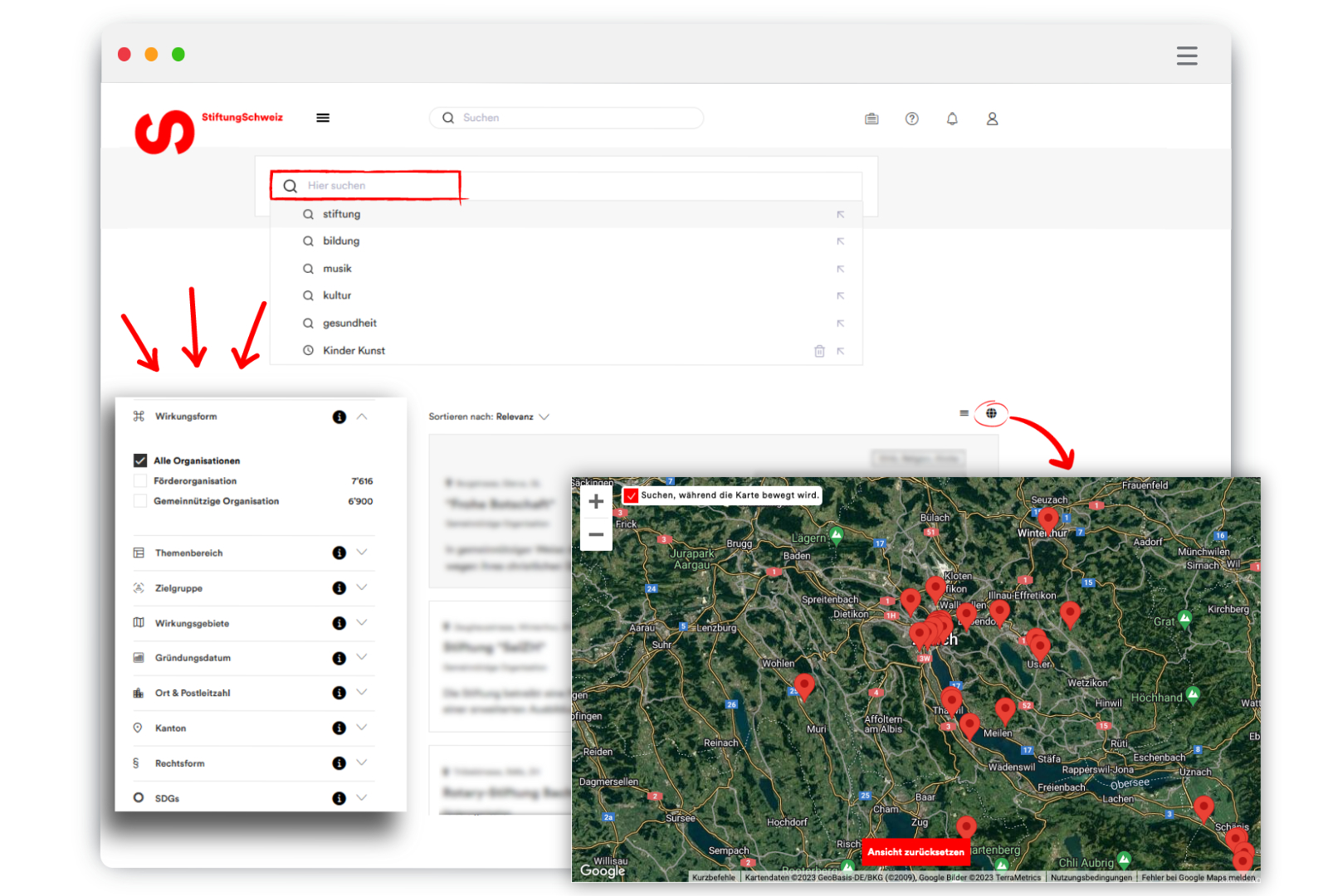 BETTER SEARCH – MORE SUCCESS IN PHILANTHROPY
The most important thing for sponsors, non-profit organizations, as well as private individuals is to find the right partner without detours. The best way to get there is to search quickly and efficiently. StiftungSchweiz does justice to this. With a search system tailored to the needs of philanthropy.
For fundraisers
An effective research tool is essential in foundation fundraising. The StiftungSchweiz search allows you to precisely find the funding organizations that best fit the purpose of your non-profit organization without much detour. The more accurate the research, the greater the chance of a successful grant match.
For sponsors
The StiftungSchweiz search enables funding organizations to locate non-profit organizations that match their own funding goals. But also to find other funding organizations that pursue comparable funding priorities and to network with them. For example, in the network function of StiftungSchweiz.
For Expert:inside
StiftungSchweiz also provides private individuals and experts with a powerful search tool. Whether you're looking for funding partners or supportable nonprofits. With the StiftungSchweiz search, you can reach your goal.
Frequently asked questions
Even at the Free level, you get unlimited access to the search function. This means that you can use all filters and display unlimited search results.
Like all functions on stiftungschweiz.ch, the search can be used in German, English and French.
On stiftungschweiz.ch you will find all charitable foundations and associations in Switzerland that are registered in the commercial register. This also includes church foundations. Therefore, around 15,000 organizations are listed on stiftungschweiz.ch. Family foundations and welfare foundations are not represented on the platform.
Use the canton filter and the legal form "foundation". In order to collect all results in a clear list, you either need a starter access or you place a non-binding search request with us. Contact us: support@stiftungschweiz.ch