Build Your Digital Fundraising
Secure access to all digital fundraising markets in one fell swoop: To grant giving foundations via the foundation platform with an integrated pre-application system. To private donors via the donation platform and with many digital fundraising tools. And to corporations & major donors via your own fundraising. All that very inexpensively and with little effort!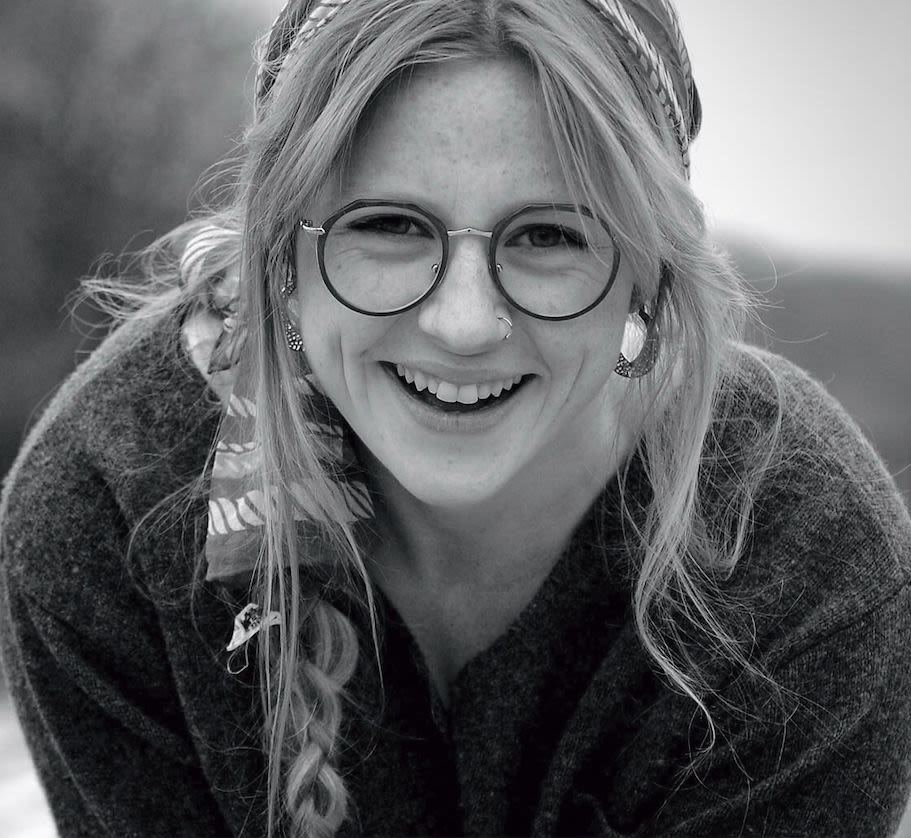 STIFTUNGSCHWEIZ AS A SINGLE POINT OF FUNDRAISING
One Solution for Everything
StiftungSchweiz is your single point of fundraising: here you can access all the important fundraising sub-sectors through a single channel. This simplifies your fundraising, saves time and money and makes fundraising more efficient and ecological.

Public Fundraising
With StiftungSchweiz you can easily reach private donors: showcase your organization and projects on the largest Swiss donation platform. Integrate a donation button or donation form on your website and interact with donors directly. And if you don't have a website, you can create your own donation website with just a few clicks.

Foundation Fundraising
Showcase your organization and projects on the largest Swiss foundation platform and attract the attention of grant giving foundations. Search in our extensive foundation register for suitable grant giving foundations and quickly find what you are looking for. With the online pre-application system, you can directly submit funding requests and receive a response.

Corporate Fundraising
Build up your fundraising in connection with companies with StiftungSchweiz: create a fundraising landingpage and conduct fundraising with your partner companies and their customers and employees. Or use our platforms to make companies aware of your organization and projects.

Major Donor Fundraising
Complete your fundraising portfolio with access to major donors. Use our platforms and a dedicated StiftungSchweiz fundraising landingpage to attract the interest of major donors. Or benefit from the extensive reach of our magazine, The Philanthropist . We are your door opener into the world of major donor fundraising!
Start your digital fundraising now with StiftungSchweiz
All Features at a Glance
Free yourself from an unnecessary administrative workload and focus on the essentials: the success of your fundraising. We offer fundraisers a variety of practical and efficient tools that make this possible.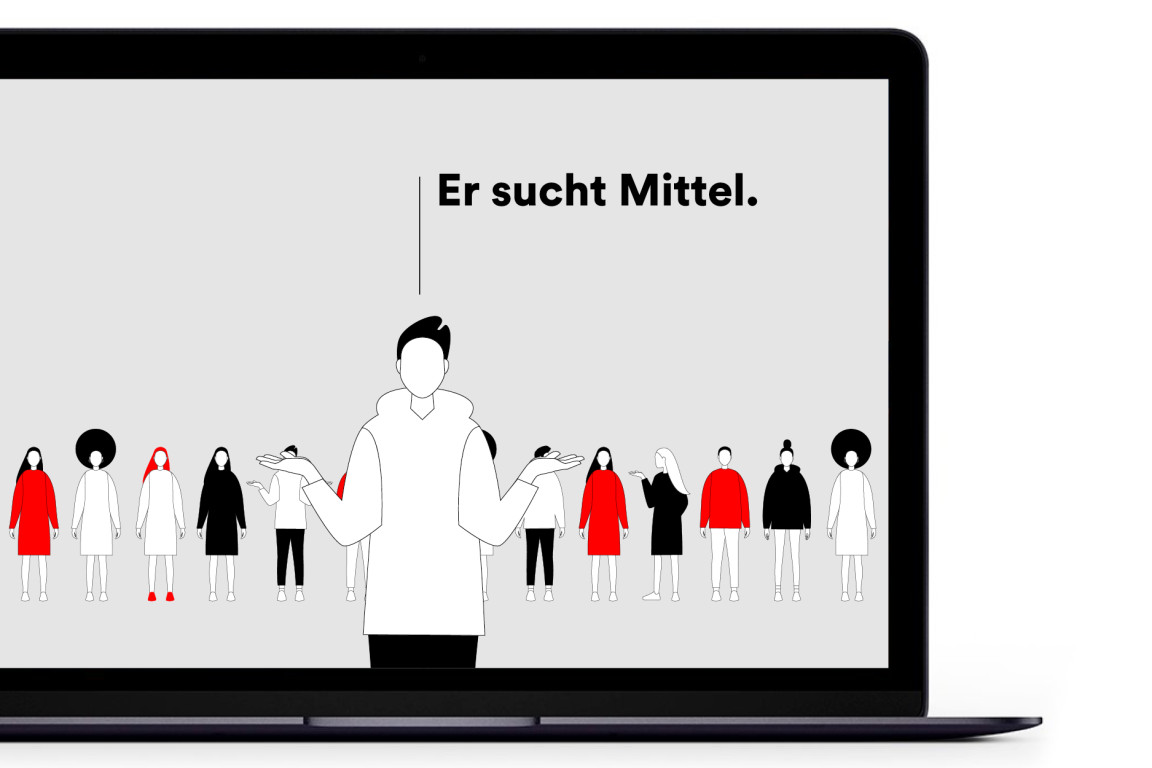 Do an unlimited search for matching grant giving foundations. More than 13'000 foundations are listed on the foundation platform, and you can obtain valuable information on most of them beyond the details provided in the commercial register. Numerous filter functions that can be combined with each other enable an even more targeted research. Particularly interesting is the advanced search for people and locations as well as the geographical display of search results on a map! Your individual search results are summarized in clearly arranged search folders. You can naturally export the data.
Sophisticated search system with numerous filters
Fast reaction
Various representations (list, photoline, map)
Research folder incl. exporting data
Support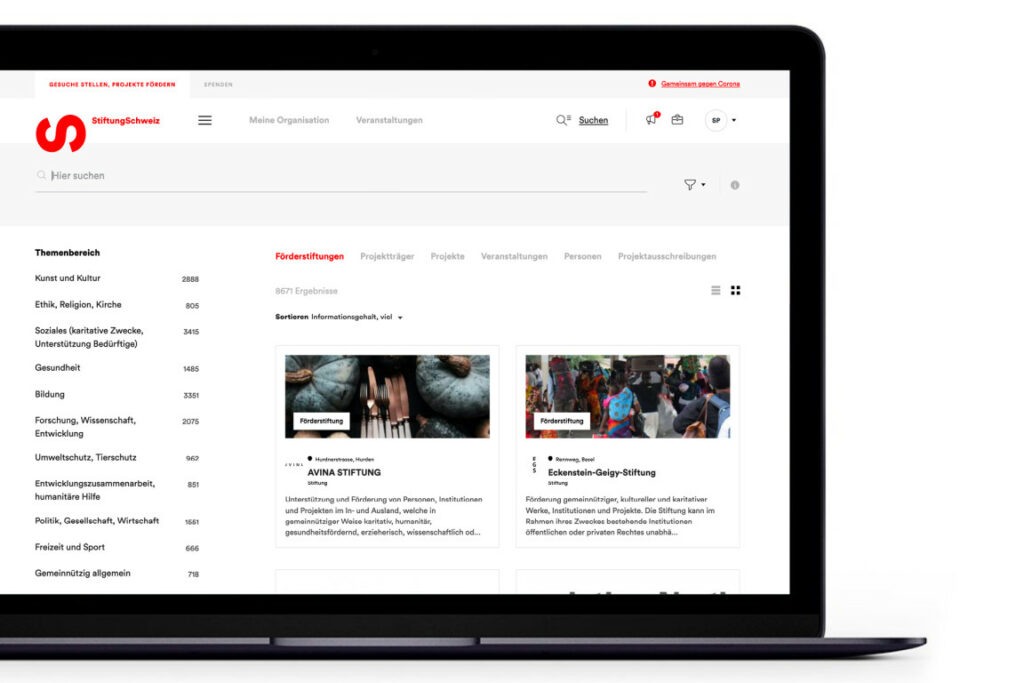 Whether you are an association, an operational foundation, a socially or culturally engaged company, or a public institution, present your complete organizational portrait in multimedia form on your own microsite to receive contributions from grant giving foundations. For security reasons, all organizations are subject to a quality check in accordance with Finma regulations.
Publish each project of your organization online in a practical project portrait – multimedia and each on its own microsite. In your preliminary applications to the grant giving foundations and in your responses to calls for projects, the project portraits will be included by link.
No own website required
Entries and project descriptions can be changed at any time
On request, support from the experts at stiftungschweiz.ch
Basis for the use of the (optional) online application system
A practical booklet can be compiled from several project portraits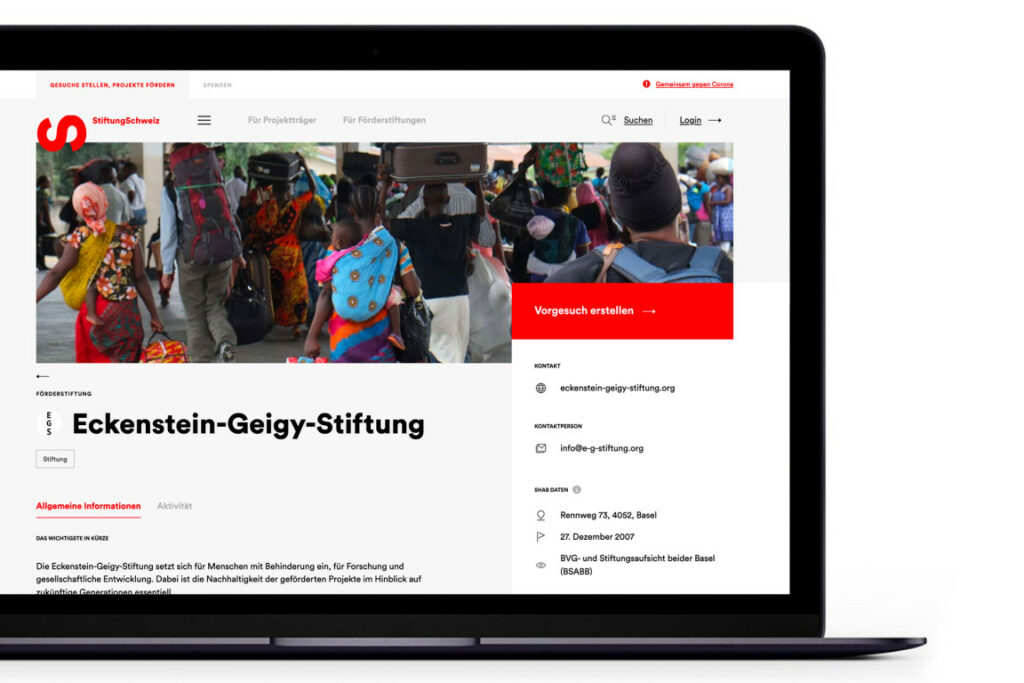 Publish your organization and projects also on the donation platform of stiftungschweiz.ch. You can publish as many projects as you want on the largest and most secure donation platform with a simple click. And for as long as you want (we don't apply any time pressure like crowdfunding platforms). The prerequisite is that your organization is non-profit and tax exempt. All incoming donations are automatically checked for money laundering to keep you safe from black money.
100% of the donations will be forwarded to your organization without deduction
Complete transmission of donor data (except for anonymous donations)
Statistics and evaluations
Special promotional packages for the published projects
The billing of our service is carried out exclusively via the selected subscription
Finma-approved and secured against money laundering (donor verification)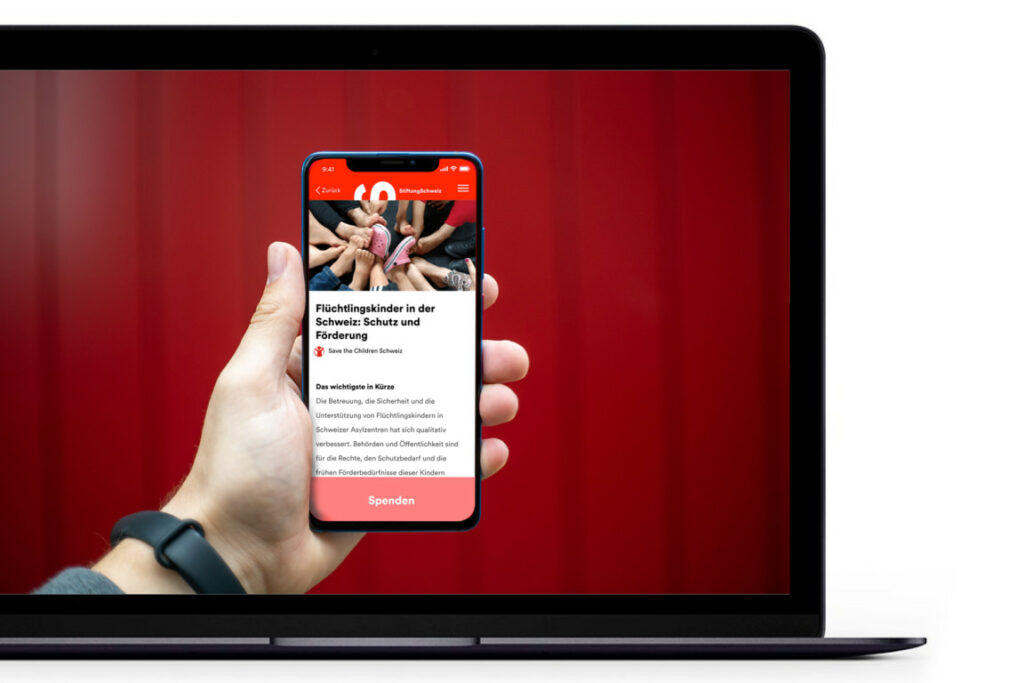 Activate potential donors: place a donation button on your website and connect your website to the StiftungSchweiz donation form. This way you can easily collect donations through your own website.
Easy configuration of your donation button
Visually pleasing appeal for donations
Color and text selectable
Direct link to the donation form of your organizational or project portrait on StiftungSchweiz
No extra contracts with credit card companies and payment providers necessary
Fundraising up to CHF 10'000 is free of charge – there are no additional fees!
You would like to receive more information? Learn more about the donation button on the blog.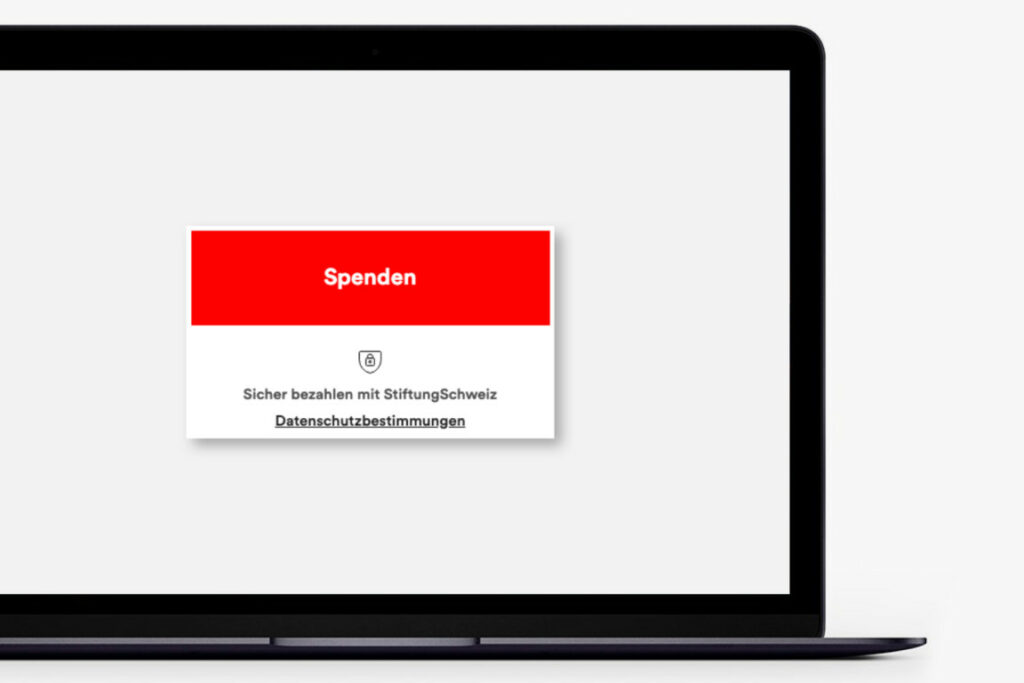 Use your own website as a digital fundraising channel and integrate a donation form from StiftungSchweiz on your website. This is how you can collect donations from private donors, members and patrons easily, directly and without unnecessary detours.
Direct donations on your website
Simple technical integration
Customizable donation receipt
Secure payment processing via StiftungSchweiz
Various design elements freely selectable
No extra contracts with credit card companies and payment providers necessary
Fundraising up to CHF 10'000 is free of charge – there are no additional fees!
You would like to receive more information? Learn more about the donation form in the blog.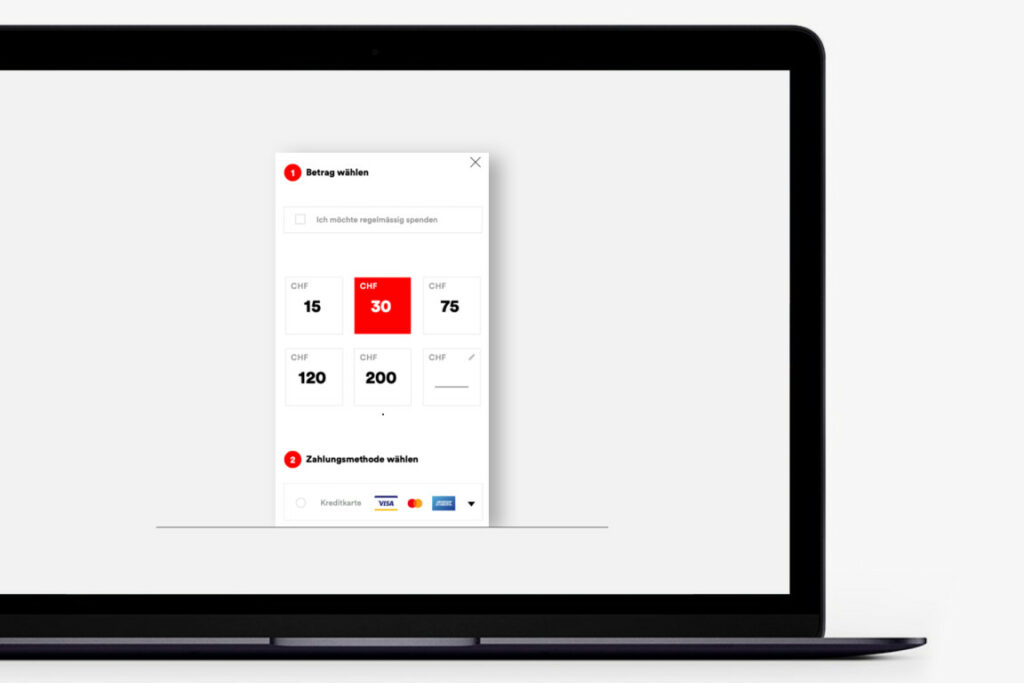 This is how digitization works: get your own QR codes for direct and mobile donations with the QR code generator from StiftungSchweiz. Easily configure suitable QR codes on StiftungSchweiz and download them directly. Print the QR codes on your donation letters or in your brochure. Your donors can therefore donate directly online via your donation form at StiftungSchweiz, without a payment slip!
From analog to digital
Simplification of donating
Reduction of barriers
You would like to receive more information? Learn more about QR codes on the blog.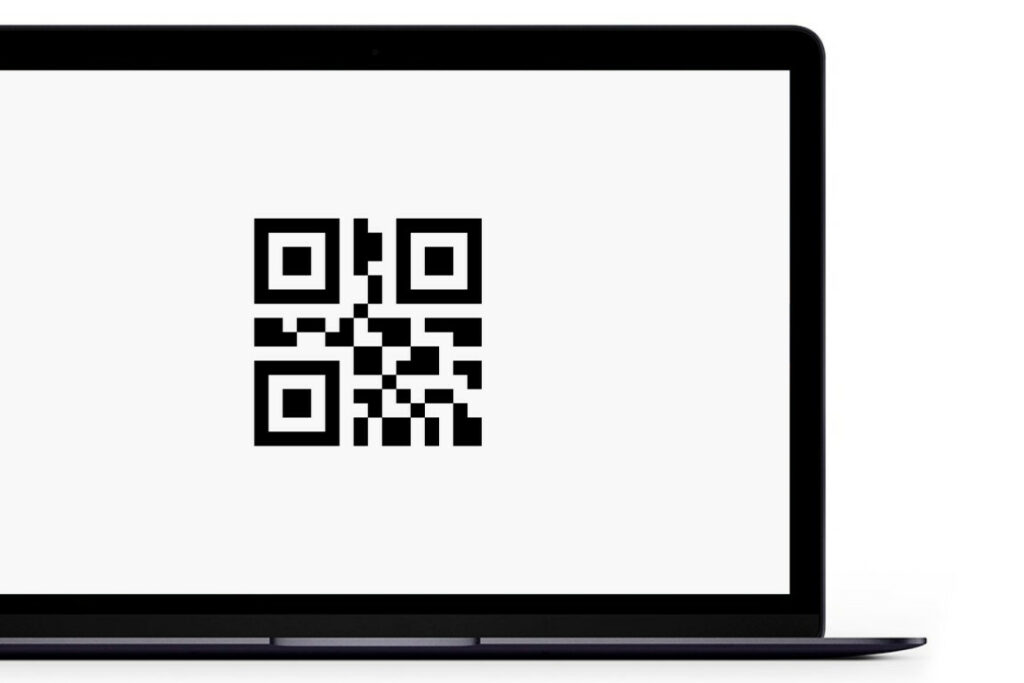 With the new donation magazine (for the time being only in German), StiftungSchweiz gives project owners the opportunity to significantly increase their fundraising scope in the private donor submarket. In addition, new donor groups can be targeted by intelligently linking different channels.
The diversity of the third sector can be experienced with interesting stories.
Activation of new private donors (focus on 50+ and millenials)
Readers are motivated and empowered to make simple direct and secure digital donations.
Strong reach and visibility thanks to clever bundling of user streams and placement of content in the ecosystem.
14-day editorial "Do Good" newsletter with project promotion and direct link to the donation platform (>10'000 subscribers).
Promotional offers for every need and budget: online advertorials, ad formats or list entries. Introductory offer for FR Premium subscriptions until June 30, 2022: Editorial mention of your organization/project in the magazine and distribution via the donation newsletter (>10,000 subscribers) and social media.
You can find more information on our factsheet (GE): Download now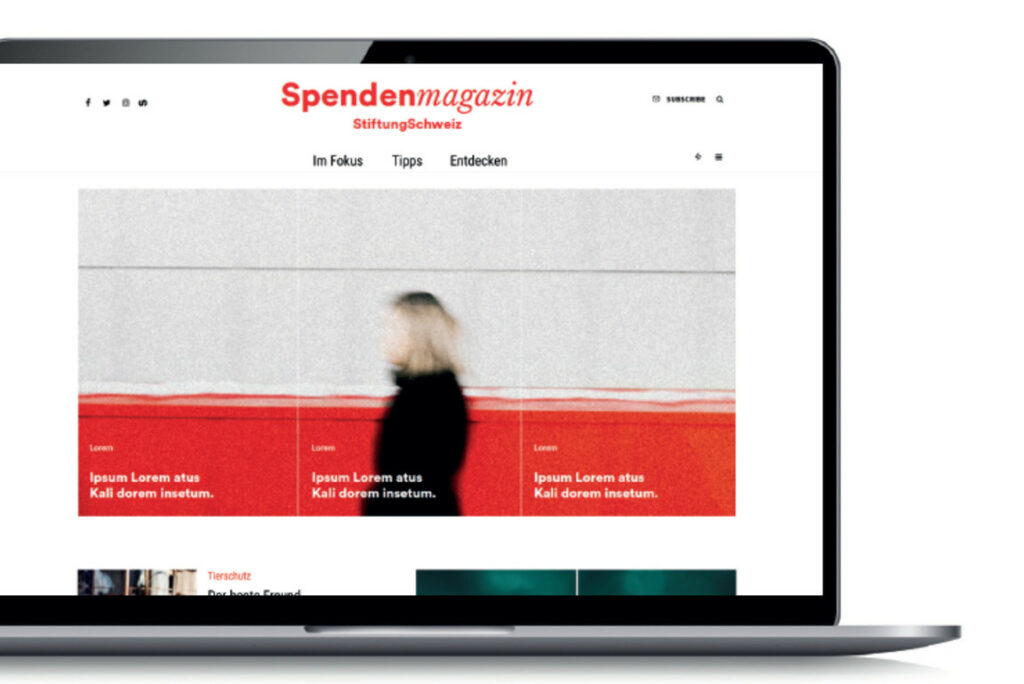 Public Fundraising with StiftungSchweiz – Explained in the Video
BETTER SEARCH – MORE SUCCESS IN FUNDRAISING
Spotlight: the Search Function of StiftungSchweiz
The most important thing for fundraisers is to quickly find the right grant giving foundations. The best way to get there is to search quickly and efficiently. StiftungSchweiz fulfills this need with its clever search system.
Efficient matching Use smart filters in your search to increase your matching rate: StiftungSchweiz uses the NKS System of categorisation, which was developed especially for the fundraising sector and whose development was based on decades of fundraising experience. By combining relevant filters, you can find suitable foundations quickly and efficiently.
High data quality: Getting a search result quickly is not everything. The quality is also crucial. Every day, we are personally committed to ensuring that all data on our platform is accurate, up-to-date and well secured.
Multiple search systems: Put an end to one-dimensional searches. With StiftungSchweiz, you have access to several search systems, all in one place: search for suitable grant giving foundations, relevant people, exciting events and interesting jobs.
Diverse navigation: StiftungSchweiz offers you various ways to search for suitable grant giving foundations. Use the quick search via text field or navigate through the foundation landscape with the foundation map. If you like, you can also search for foundations regionally. However you search: With StiftungSchweiz, all roads lead to a match!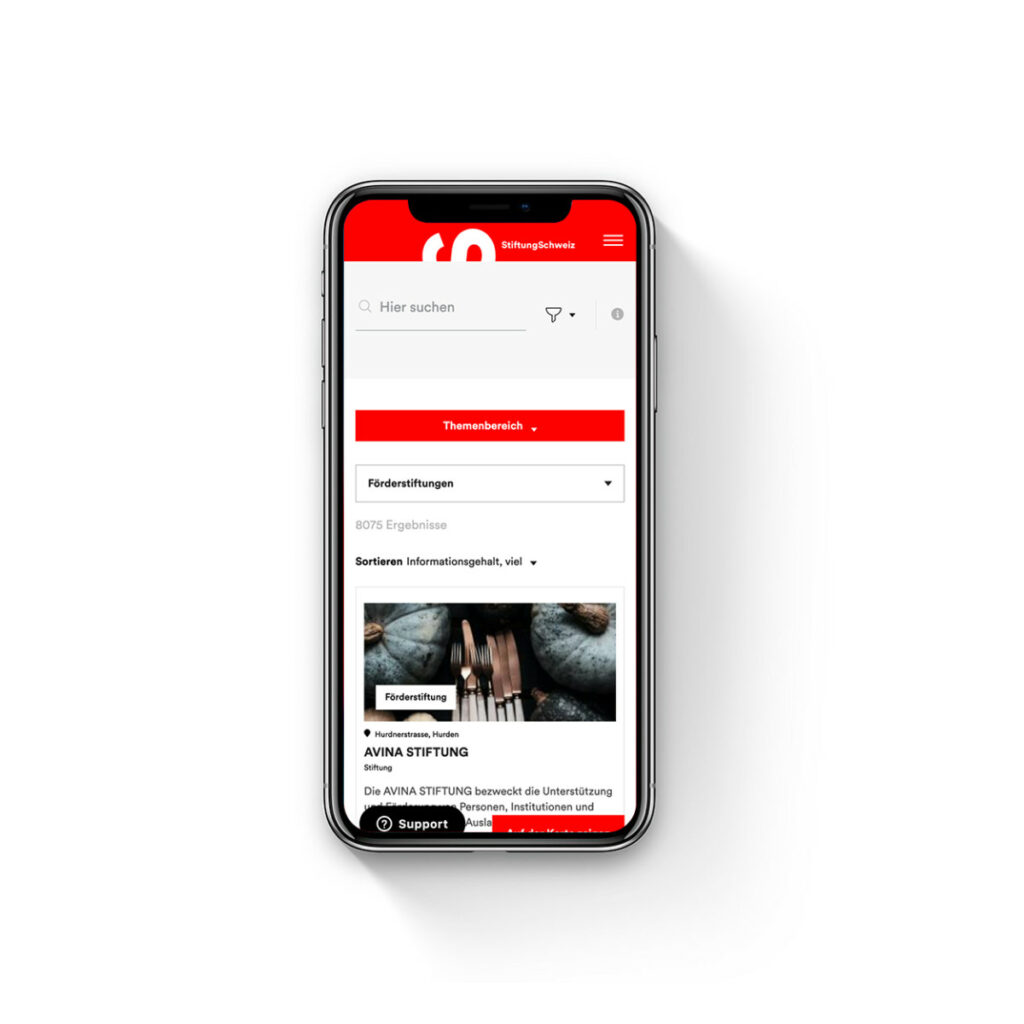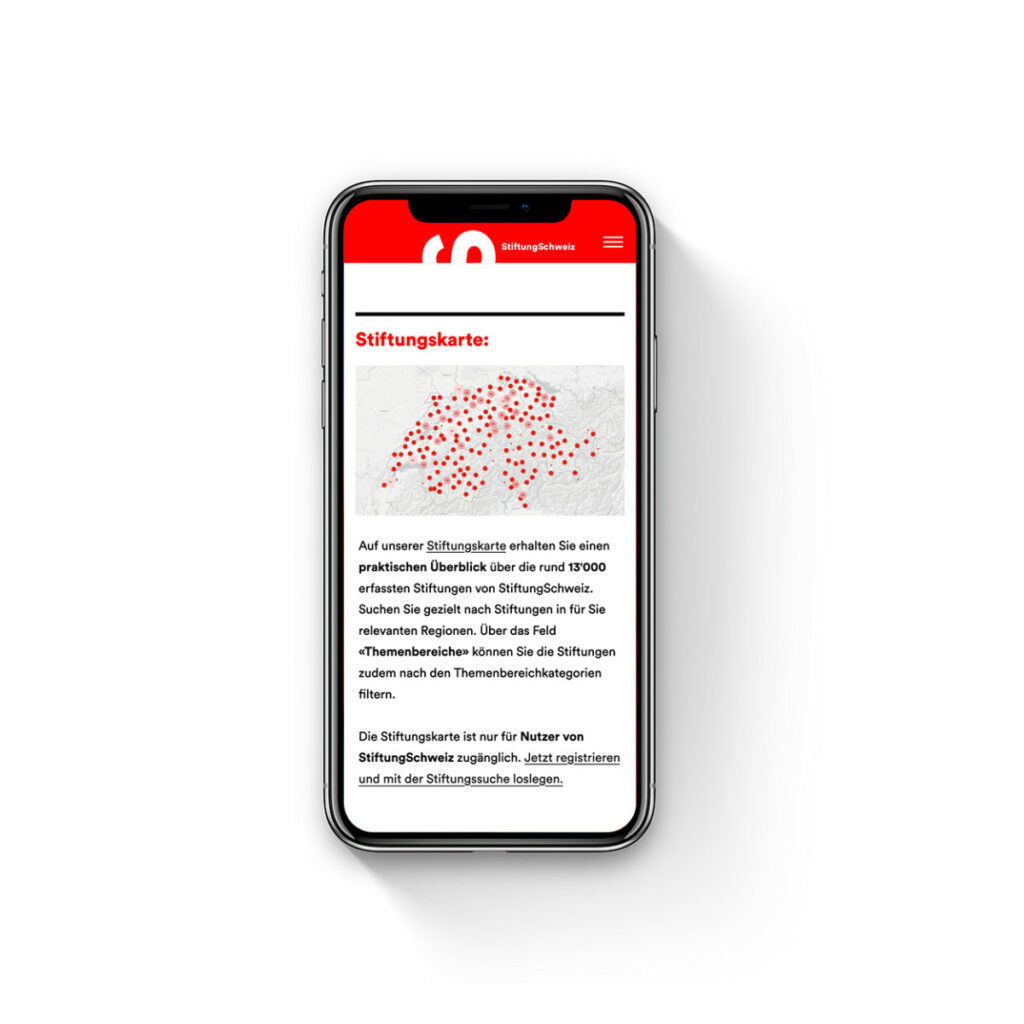 Additional Features
Whether research service, industry statistics or Knowledge-Hub: StiftungSchweiz offers a 360 degree view for fundraisers. The comprehensive service portfolio covers all needs of project owners.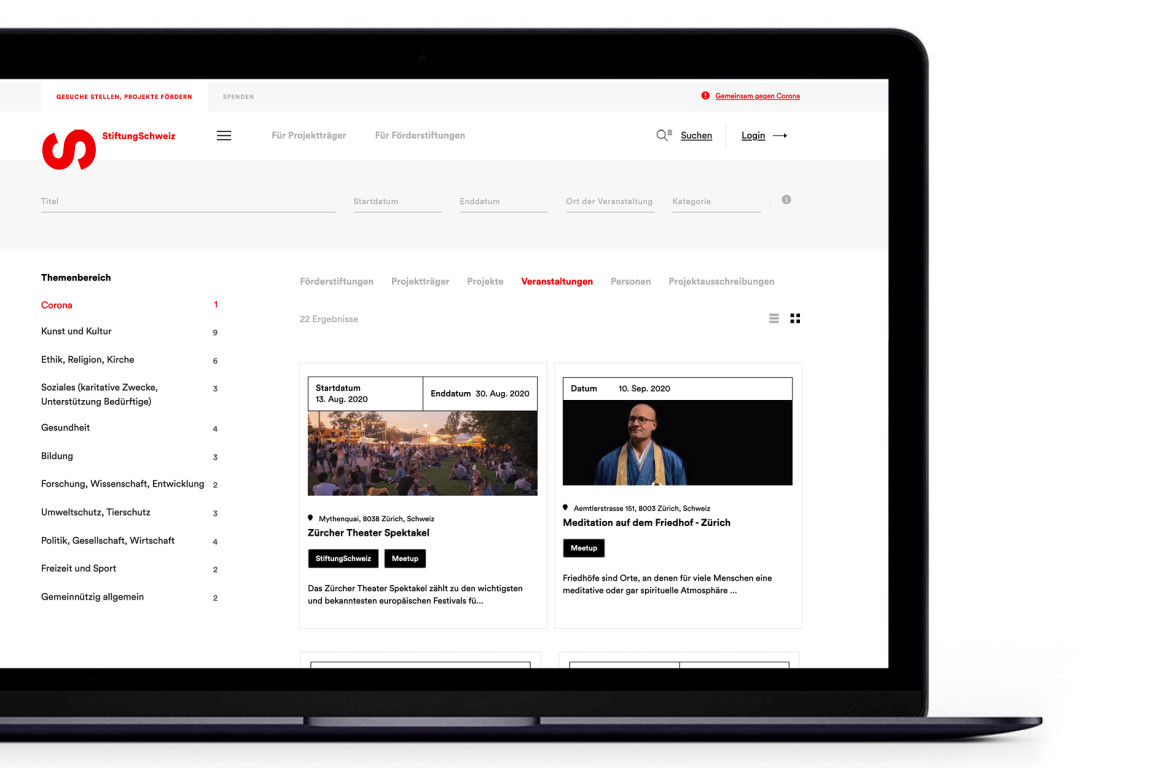 Everything going on in the foundation and nonprofit world can be found here. Almost, anyway. In addition, there are various opportunities to learn new things and get practical help. Don't miss it!
Open positions in the nonprofit sector
Search for foundation board members
Useful books and publications
Industry statistics with facts and figures on philanthropy
Knowledge-Hub with lots of info, e.g. on impact monitoring and legal issues
Blog, newsletter, the magazin THE PHILANTHROPIST (online and in print)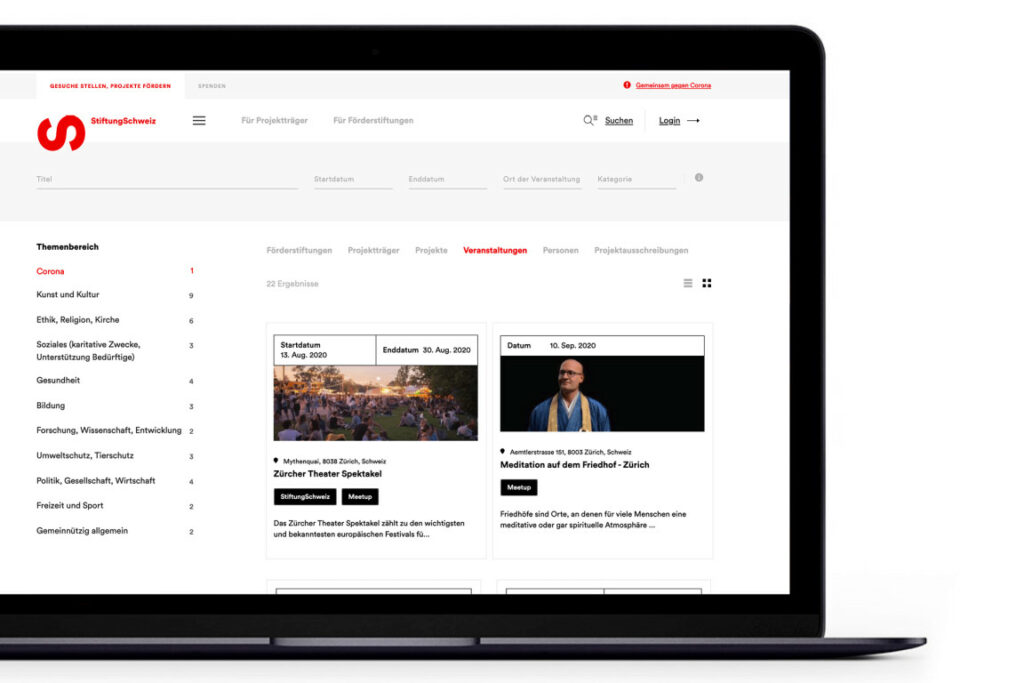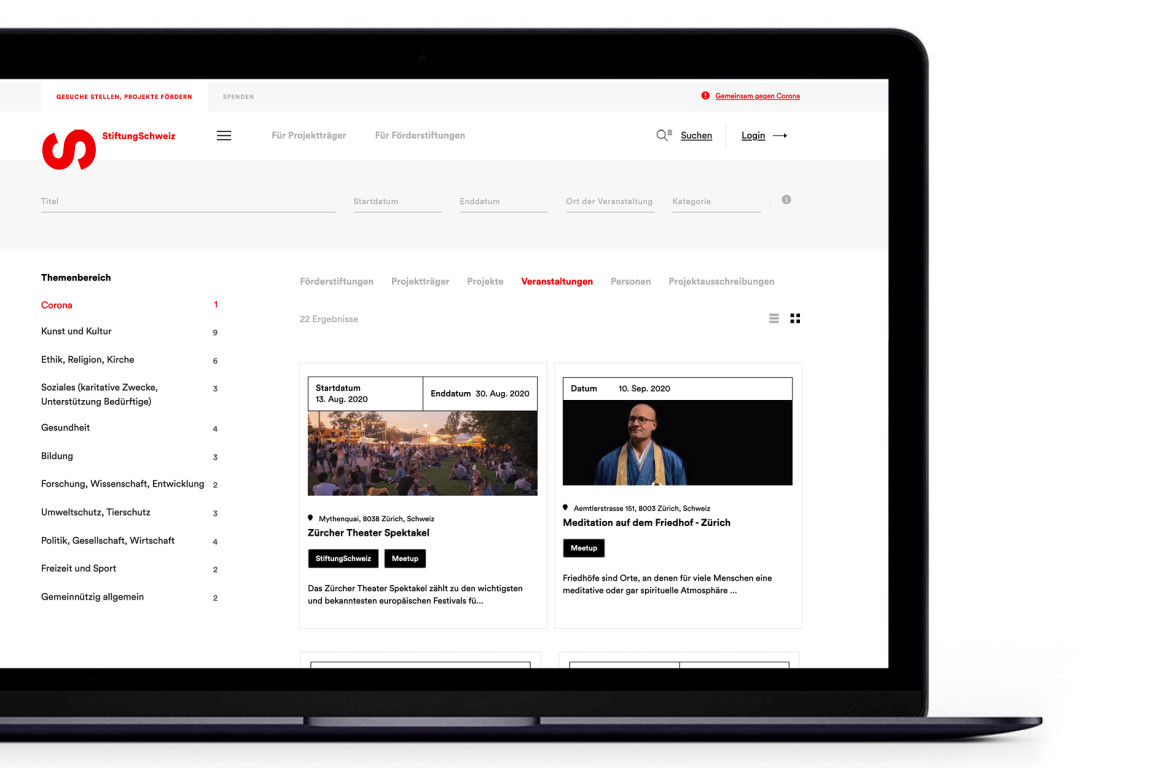 First, create and publish a complete organizational portrait quickly and easily to receive contributions from grant giving foundations. For security reasons, all organizations are subject to a quality check in accordance with Finma regulations.
Then publish your organization's projects online in a practical project portrait – multimedia and each on its own microsite. Use a secure, anti-money laundering escrow account to process donation payments.
You can manage all your activities on stiftungschweiz.ch via a practical dashboard . This is where all the information that is relevant to you is gathered. The Dashboard and the entire user backend, including the functions of StiftungSchweiz, are multilingual: German, English, French, Italian, Spanish.
No own website required
Entries and project descriptions can be changed at any time
On request, support from the experts at stiftungschweiz.ch
Basis for the use of the (optional) digital pre-application system
A practical booklet can be compiled from several project portraits
Clear display of all activities
Customizable information
Statistics and evaluations
Donations processed via secure escrow account
Multilingual use of the platform possible (German, English, French, Italian, Spanish)