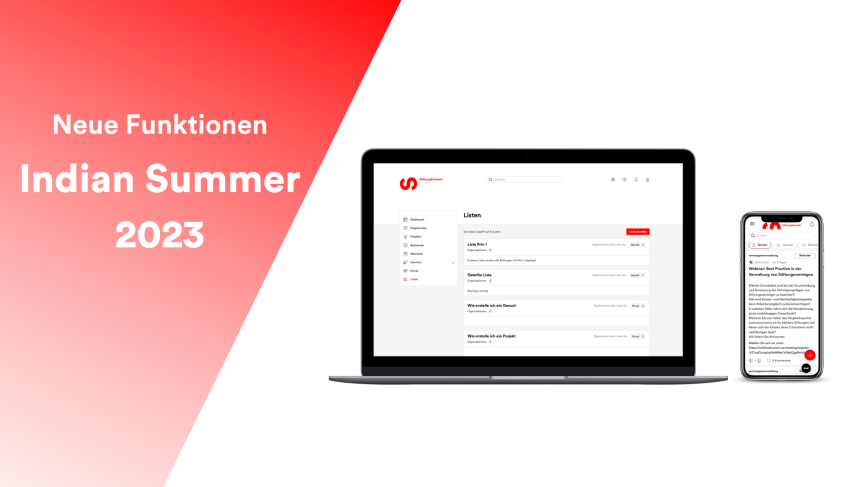 With the Indian Summer release, we have implemented further major innovations that our users have requested. In addition to the new offer structure, the focus was primarily on the network function, which is now open to all, and the lists (formerly: research folders). In addition to private lists, you can now create shared lists, comment, prioritize and tag items in the lists. The new "Extras" menu item now has webinars, services and publications ready for you, and the additional search field in the top navigation now lets you find not only organizations, but also projects and public networks – quickly and easily.
Our network offer for all
During the beta phase, funders diligently tested the networks and put them through their paces. With the Indian Summer release, all our users can finally join in the discussion on the networks. From level Starter you can join public networks and from level Pro you can even create and moderate your own network. You decide whether the network should be public, for funders, nonprofits or experts only, or closed. You want to learn more about the network function? In our blog post we explain everything you need to know about it. We also organize free webinars on a regular basis to explain the network offering.
Advanced functions of the lists (formerly: research folders)
With the release, we have completely revamped the lists and given them a new home of their own. Now you can access the lists via a separate menu item and they will be opened on a separate page. Any list you create can now be shared or kept private. You can comment on, tag and prioritize the saved organizations. In the activity history (Pro level and higher), you are informed when organizations make changes and thus stay up to date.
Create list
Log on to stiftungschweiz.ch.
Click on "Lists" in the menu on the left and then on "Create list".
Enter a name for the list as well as a description and then click on "Create".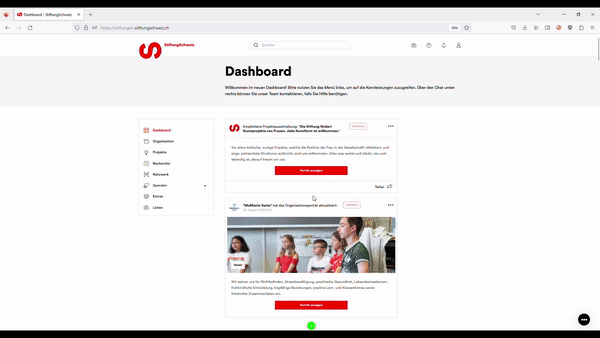 Share list
If you not only want to use the list you have created on your own, but also share it with others, click on "Private" for the corresponding list. In the popup, you can then use the drop-down menu to switch from Private to Shared. You can now use the input field to send invitations to your list by mail. Alternatively, you can copy the link to the list and forward it. Then you can select which role you want to assign to the invitees:
Viewers can see all the information (saved organizations and comments) in the list, but cannot make any changes themselves.
Contributors can add organizations to the list, post comments, give up- and down-votes to organizations on the list, and add additional members to the list.
Moderators have the same rights as contributors, can delete entries and comments, and can also assign other roles to people in the list.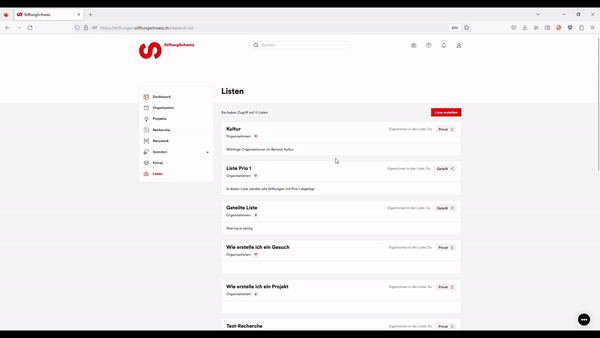 "Extras" menu item: webinars, services and publications
Under the menu item "Extras" you will now find webinars and workshops, services as well as publications that can support you in your work:
Webinars: Take the opportunity and educate yourself with the StiftungSchweiz webinars and workshops and acquire more knowledge around philanthropy step by step. The webinars can now be filtered by topic and our partner offers can now also be found here. For example, on October 05, c-alm's webinar "Best Practice in Managing Endowment Assets" will take place.
Services: Our services offer you customized support and personal assistance from proven experts. We are starting with the "Profile Brush Up" and "Data Protection Checkpoint" services and will gradually expand our offering to meet your needs.
Publications: Factsheets, whitepapers and the sector magazine "The Philanthropist" – new you will find clearly and inspiringly prepared know-how.
Improved search in top navigation
Previously, you could only search for organizations using the search in the top navigation. In addition to matching organizations, you will now also be shown matching networks and projects for your search term. A click will then take you directly to the desired search result.
Do you have any questions or suggestions? Then feel free to write to me.