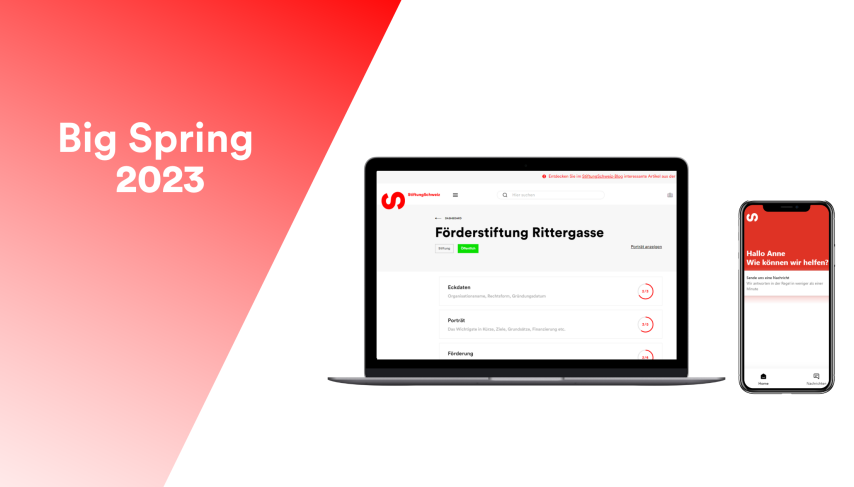 After much anticipation, the time has finally come! Today we go live with the biggest release since the launch of the platform.

Discover now the new features for a better experience on stiftungschweiz.ch.
---
Well Networked to Achieve More
This is not only our motto, but also our wish for the philanthropy sector. You remember: We recorded your feedback and your needs in numerous interviews. After intensive tinkering and development, we now present the biggest release since the launch of the platform. And with that, we cordially invite you once again: Join in! Test the new functions, give us feedback and share in our enthusiasm to continuously advance the field of philanthropy.
Because there are a lot of smaller and bigger innovations in this release, we have created an overview for you. For the larger new functions you will also find separate explanations and instructions with detailed information.
Exclusive Network Offer
With the network, StiftungSchweiz is launching a completely new service. Dive into the diverse topics of the nonprofit world and experience the added value of collaboration. Open your own networks and build a touchpoint for exchange with other funders. Here you can find out how the new network offering came about and here you can find detailed instructions on how to use the network offering.
For the time being, the network offer is exclusively accessible to grant giving organizations; it will not be open to all user groups of StiftungSchweiz until the fall. You do not want to wait so long? Then apply now here as a beta user.
New Experience in the Search for the Right Organizations
The core of our platform, the search, has a new look! The filters are bundled and easier to use and the results are now also displayed more clearly. But something has also changed under the hood: A powerful algorithm ensures more suitable results. The new input field also gives you possible suggestions even before you start searching and also corrects spelling errors independently. Get inspired by the matching options and add desired organizations to your research folder with just one click. With our tutorial you will quickly become a research professional.
Improved Navigation and User Guidance
You will now find the most important tools for your daily work in the menu on the left. At the top right, we have also revised the navigation so that you can access the most important functions even faster. But not only the improved navigation should help you to keep the overview, but also the new editing menu for your organization. There, the information is newly bundled into tiles. Thanks to the progress counter, you can also see at a glance where information is still missing.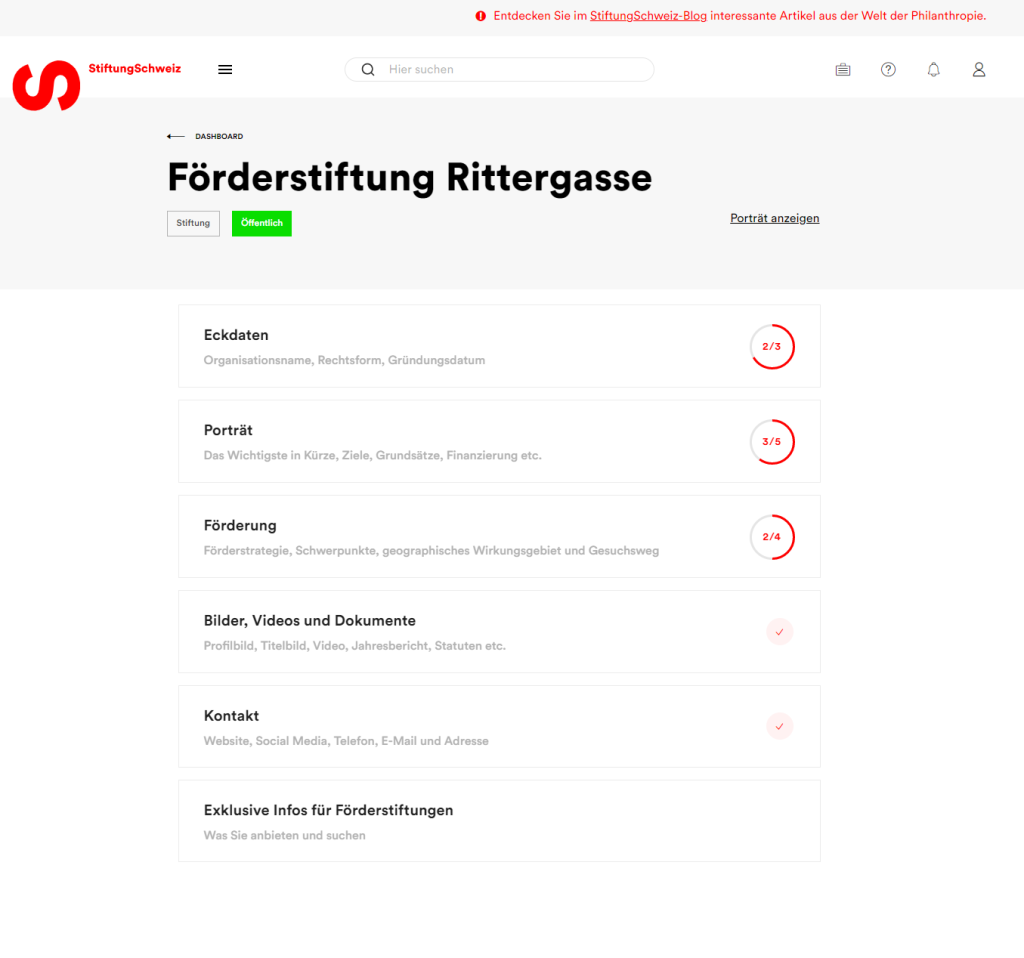 Chat with Us!

Do you have any questions? Then we are happy to be there for you. As a test, we have added an even faster and more direct contact option to the website with the chat. If you have questions about a feature or need help with a process step, just drop us a quick message in the chat at the bottom right of any stiftungschweiz.ch page and we'll respond as quickly as possible. You are also welcome to give us feedback on the new features this way.
Fresh Portrait for Funders
A lot has happened here. Grant giving organizations can now specify precisely how they would prefer to be contacted by applicants and provide the relevant information for this in the "Funding" tile in the processing mode. In addition, you can place exclusive information on your portrait that you would like to share only with other grant giving organizations. You can enter this information in the "Exclusive info for Funders" tile.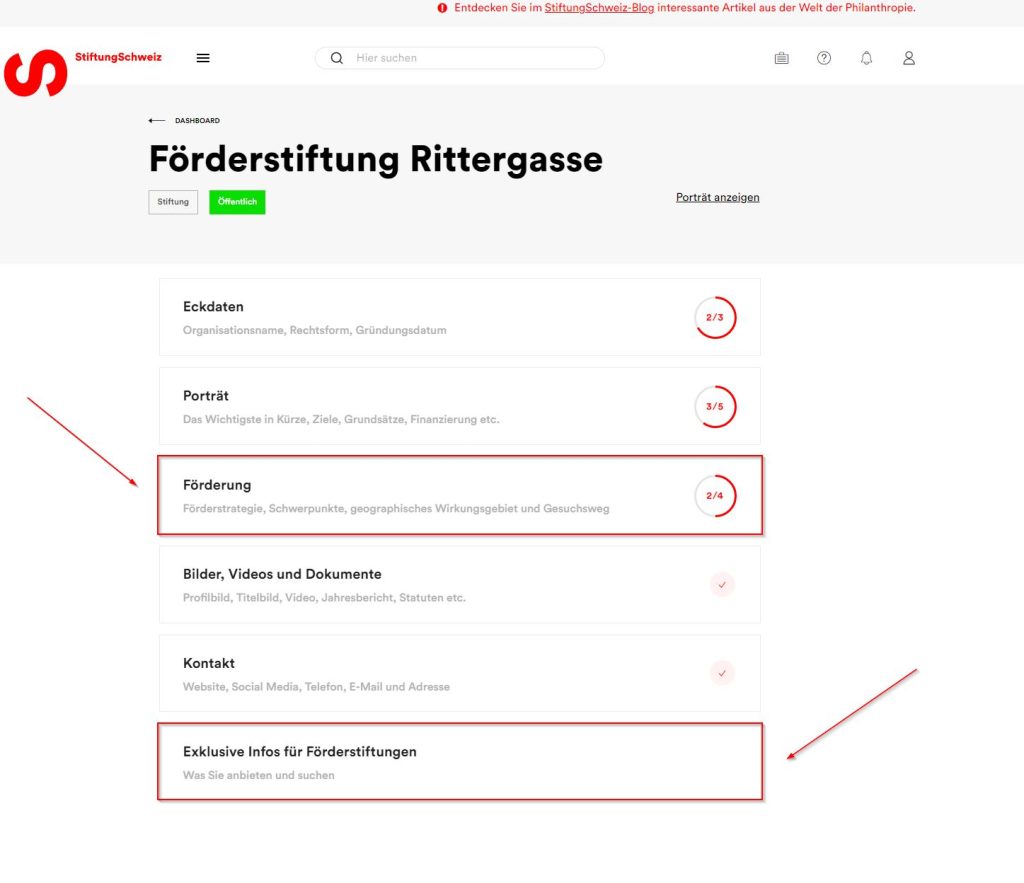 Leaner Onboarding
To help you get started even faster on stiftungschweiz.ch, we have made the creation and editing of your portraits more efficient. This means that you now only have to enter the most necessary information.
What else is changing?
Following the "Kill your Darlings" principle (read more here on the blog), we re-evaluated some features and decided to give them a major overhaul.
We can already say this much:
Events: We publicize exciting events in the sector via our social media channels. We are placing a new focus on the thematic exchange that takes place in the networks. In addition, you have the opportunity to draw attention to suitable events in the respective networks.

Pre-application feature: We are currently revising the application function and plan to launch a "full-blown" application management in a later step. You can look forward to this next step!

E-learning: Soon we will launch new webinars, workshops and online networking meetings. In this way, we want to facilitate a lively exchange and respond even better to your needs. Let us know what topics you're dying to see covered in a webinar or workshop: redaktion@stiftungschweiz.ch

Jobs: Now you can find current job postings from the sector every Thursday in Philanthropist Briefing. Subscribe to the newsletter here.
Small comment:
Please note that we are continuously making technical adjustments during the release week. So if not everything is running 100% smoothly yet: Don't worry! We are working in the background at full speed on the improvements and are all committed to the best possible experience. And as always, we are here for you!
We wish you a lot of fun trying it out!